Shoppable media, WTF?
Shoppable media is a major recent trend in m-commerce which gives shoppers the chance to spontaneously buy a product seen on an ad and it's been catching on with major brands. With shoppable media, consumers are 3 times more likely to actually buy the product than in a different context. Let's have a closer look at what it means.
How does it work?
While the huge influx of smart phones and tablets has made m-commerce into an important growth driver for brands, shoppable media is one of the showpieces of connected retail.
Shoppable media offers a range of platforms offering consumers the chance to buy a product simply by using a Buy button, which displays directly on a picture published on Instagram or a pin on Pinterest.
The Buy button takes prospective purchasers directly to the relevant product page, instead of having them search for the product URL.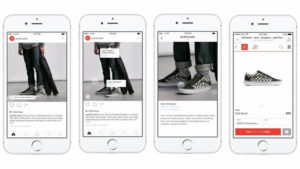 What's the benefit for brands?
Shoppable media offers a simplified purchasing experience, while strengthening their connections with consumers.
Consumers use their smartphones wherever they are, and at whatever time, whether they're in the bath or in a crowded train. Shoppable media looks like being the future of mobile-based product sales and a great opportunity for brands to tie in with new consumer purchasing patterns. It's now crucial to offer consumers a cohesive, multichannel customer experience, merging online and brick and mortar sales.
Studies show that the features offered by shoppable media make consumers 3 times more likely to buy a product than in a different context.
Brands are also eager to get their hands on the data shoppable media collects, such as precise figures for the traffic and sales generated by the content displayed on a device.
Shoppable media and Instagram
After Instagram announced a few years back that it would be debuting the idea of shoppable media, it brought a sigh of relief from agencies and advertisers. What this means is that the platform offers consumers the possibility to buy all kinds of items in just a couple of taps. This is a massive opportunity for brands to drive online business.
Shoppable media on Instagram is open to business account holders selling physical goods. You can tag 5 products per image and 20 per multi-image post. First of all, though, you have to select a product catalogue to connect to your business profile. It's only after this that you'll be able to tag people and products on the visuals.
Quite a few major banners are using shoppable media on Instagram in France. The question is how to make best use of the shoppable media feature without damaging brand image. The fact that people can now buy your products through Instagram does not mean that you have to turn the whole of your business account into a mini e-commerce site. What mustn't be forgotten is the actual attraction of Instagram, the reason why users go to it on a daily basis – they're looking for inspiration, great visuals and interesting stories.
One question that possibly needs to be asked is whether Instagram is setting out to take the place of e-commerce sites and become a fully-fledged e-shop platform. One only has to look at its sister company, Facebook, to see how its business model has changed over the years to prevent traffic moving to third-party sites and keep the user firmly on its platform.
14
Sources :
The State of Shoppable Media in 2017 and Its Future in the Coming Year